HISTORY OF THE ROTARY CLUB OF SYLVA, NORTH CAROLINA
The Rotary Club of Sylva, North Carolina was organized with the help of the Waynesville club. The year was 1928, when a round-trip ticket from Sylva to Washington, D.C. by Southern Railway cost $15.
On the evening of March 7, 1928, 25 men met in the Chamber of Commerce Hall to elect officers and make application for a charter. The charter for club number 2812 was issued promptly by Rotary International on March 31, 1928, signed by Rotary founder Paul P. Harris.
Charter night ceremonies took place on April 5, 1928, with District Governor Dave M. Clark presiding and many visitors: 19 from Franklin, 12 from Waynesville and one from Asheville. Later the next month, on May 30, club members met at Lake Junaluska with the Waynesville club for a day's outing on the lake. By August, the club's service activities had begun: members voted unanimously to underwrite clinics in Jackson County for crippled children.
Currently club meetings are held at noon each Thursday, at the Jackson County Senior Center in Webster, near Southwestern Community College.
The club's original 25 members and their occupations in 1928 were:
John Claude Allison (lumber and building supplies retailer). Claude was from a prominent Sylva family with large landholdings and business interests. He worked at the Sylva Supply Company for several years, and became part owner and manager of Builder's Supply Lumber Company. He headed the initial draft board for Jackson County when World War II broke out.
Roy C. Allison (hardware retailer). Roy, who was no relation to Claude Allison, owned several hardware stores at various times and places, including Jackson Hardware on Sylva's Main Street. He served as president of the first merchant's association in Sylva. Of all the charter members, he would live the longest; Roy died in 1985 at age 100.
W. Mike Brown (general contractor). Mike was a road and bridge builder. He built the bridge over Scotts Creek, next to the property currently used as Sylva's Municipal Hall.
Corsey C. Buchanan (general law practice). A native of Webster, Corsey helped lobby for passage of a bill in the state legislature that allowed Jackson County voters in 1913 to decide to move the county seat from Webster to Sylva. He served as mayor of Sylva from 1932 to 1935. His wife, Lillian, founded Jackson County's first public library and served as its librarian. Lillian was widely traveled and provided several programs for Rotary meetings.
Harry Eugene Buchanan (telegraph and telephone pole distribution). A Sylva native, Harry was a member of a large local family. He owned the Halson, Lyric and Rodeo theaters in Sylva. In 1930 the Lyric installed sound equipment for the new "talking movies." Sylva was said to be the smallest town in the nation with sound equipment in a theater. He was Sylva's mayor in 1931, though had moved to Hendersonville to find work; he lost his theatres, his house and his car in the Great Depression. (He commuted using his wife's car.) Harry later served as a state senator and a highway commissioner. In 1948 he launched the Cherokee Historical Association, which built the Mountainside Theater for the outdoor drama, "Unto These Hills," and which later established the Oconaluftee Living Indian Village. From NCpedia.org: "Buchanan, as chairman and active leader, won strong support from nearby communities, from tribal chiefs and councils, and from U.S. Indian Service officials. All agreed that his skill and faithful work were the chief reasons for the success of the venture." He helped to found the Jackson County Chamber of Commerce and was its first president.
Marcellus Buchanan Jr. (automobile retailer). Marcellus was Harry Buchanan's older brother. His home still stands on Jackson Street in Sylva, next to St. John's Episcopal Church.
Charles Z. Candler (surgeon). The first president of the Rotary Club of Sylva, Charles Candler was a determined and forceful leader. In 1927 he and Dr. Harold Tidmarsh founded the first hospital in Sylva, which was built on a hill above the old county courthouse. The hospital was known as the Candler-Tidmarsh Hospital until 1928, when Dr. Alvin A. Nichols (another charter member) purchased Dr. Tidmarsh's interest and the name was changed to Candler-Nichols Hospital. It became the C. J. Harris Community Hospital in 1930 when the doctors decided to accept assistance from the Duke Foundation and converted the hospital to charitable, not-for-profit status. Dr. Candler delivered 2,337 babies during his career, most of them Jackson Countians.
James Coleman ("Cole") Cannon (furniture retailer). Cole operated a general merchandise store in Dillsboro. He later went into the fuel distribution business with his brothers. He lived in Dillsboro, in the house now used as the Squire Watkins Inn. At the club's 25th anniversary in 1953, Cole was still in the club, as an honorary member.
George B. Clemmer (pastor). George was pastor of the Sylva Methodist Episcopal Church. He was a greatly loved and respected pillar of the community. He is remembered especially for his work with the Boy Scouts.
James Donald Cowan (drug retailer). Don-- also known as "J.D." or "Little Don"-- managed the Buchanan Pharmacy in Sylva from 1924 to 1931. In 1932, he was elected chairman of the Jackson County commission. He served as a commissioner through 1938. He also served as county treasurer and tax supervisor for 4 terms, from 1930 through 1938.
Thomas A. Cox (civil engineer). Tom served as a state senator in 1911 and as a state representative in 1931; in 1933 he and North Carolina senator Gertrude Dills McKee (the wife of charter member E. Lyndon McKee) were able to obtain state funding for the paving of the road from Sylva to Cullowhee. His farm in Cullowhee was sold in part to Western Carolina University and became part of its campus.
Billy Davis (banker). Billy was Cashier of the Tuckaseigee Bank, which was the second bank to open in Jackson County (1909). His farm was at the head of Grassy Creek in Jackson County.
A. Jonah Dills (real estate agent). Jonah started the Sylva Fire Department (then known as the Sylva Bucket Brigade) in 1899, when he was only 18. He served as fire chief for several years. He worked as a real estate and insurance agent (he started his own agency) for more than 50 years. He lived in Dills Cove, where his home still stands. He continued to be a member of the club at its 25th anniversary in 1953.
Scroop W. Enloe (kaolin miner). Scroop managed the Harris Clay Company, which extracted kaolin (clay) from mines in Jackson County and elsewhere. One of the first industrial activities in the county, the mines produced high-quality clay purchased by other companies to make dishware, pottery and insulators for telegraph lines. He had begun working there in 1893 as an errand boy. Scroop served as president of the Jackson County Bank, which was able to survive the Great Depression. He also was the general manager of C. J. Harris Holdings from 1928 to 1958, and was the first chairman of the board of the C. J. Harris Hospital in 1930 when it became a not-for-profit organization controlled by a local board of trustees. He also was president of the Blue Ridge Locust Pin Company, the Dillsboro and Sylva Electric Company and the Spruce Pine Store Company. He was an alderman for the town of Dillsboro for over 45 years. He later became a president of the Rotary Club of Sylva, as would his son, Reginald, and his grandson, Reginald Moody Sr.
David McKee Hall Sr. (grocery distributor). A nephew of charter member E. Lyndon McKee, David managed the Sylva Supply Company from 1913 to 1938. For several years during the 1920's, he operated the Wizzard Company on the second floor of Sylva Supply, with his brother and with charter member Dan Tompkins. Their company produced "Dr. Tompkins' Wizzard Ointment" and "Bear's Wild Cherry Tonic." Fellow partners in the Sylva Supply Company were Lyndon McKee and C. J. Harris. David eventually purchased Harris' interest and became the president and majority stockholder.The Sylva Supply Co. would continue to operate until June 1, 1999, having been in business for 101 years. He was married to Edith Moore, a sister of Dan K. Moore (a member of the club who became governor of North Carolina). His son, David Hall Jr., served in the U.S. Congress.
Robert W. Harris (electrical power company). Bob managed the Dillsboro and Sylva Electric Company. He was the son of C. J. Harris, an entrepreneur who used the profits from his successful clay mining business to start the electric company as well as the Sylva Supply Company, the Jackson County Bank and other businesses in Jackson County.
E. Lyndon McKee (paper box manufacturer). An entrepreneur second in Jackson County history only to C. J. Harris, Lyndon had become the youngest telegrapher and railway station agent (the Whittier station) for the Southern Railway at age 15. He and Oscar J. Coward formed a partnership that became the Sylva Supply Company when C. J. Harris bought Coward's interest in 1898. In 1902 Harris named McKee superintendent of Harris' tanning company in Sylva, which used chestnut chips to tan leather. From 1902 until the tannery closed, Sylva Supply Company was the "company store" for tannery employees, who used coupon books as money at the store. McKee convinced Mead Paper Company to establish a plant in Sylva to make paper from the chestnut chip byproducts of the tannery operation. (The facility continues today as the Jackson Paper Manufacturing Company.) He served as Sylva's mayor from 1937 through 1946. He also served as a highway commissioner, and was largely responsible for construction of the road from Sylva to Cullowhee, Cashiers and the state line. His home was on the current site of the First Baptist Church of Sylva. His second wife, Gertrude Dills McKee, was the first woman to be elected to the North Carolina Senate; the Jarrett House in Dillsboro had been built by her father. Lyndon built the High Hampton Inn in Cashiers. He died in 1952, but the McKee family continues to own and operate the inn.
Perry Elden Moody (caskets, embalming). P. E. became a partner in the Medford Furniture Company in Sylva, which also sold caskets and funeral goods. He began to embalm bodies at the store or in the home of the deceased, so that funeral services could be held later rather than the day following the death. In 1935 he opened the Moody Funeral Home, the first funeral home in the county. It was operated for many years by his grandson Reginald Moody and his great-grandson Reginald Moody Jr., both of whom have been Rotarians in Sylva. When the funeral home closed, it was the oldest family-owned business in Jackson County. He also served as a deputy sheriff and as Jackson County tax collector.
John Hanley Morris Sr. (insurance agent). John established the Sylva Insurance Agency in March, 1925; it is still in operation. He served as Justice of the Peace for more than 50 years; it was not uncommon to go into his office for an insurance policy and be called on to witness a marriage ceremony!
Alvin A. Nichols, M.D. (physician). Dr. Nichols became the partner of charter member Dr. Charles Z. Candler in the operation of the county's first hospital. Known as "Little Doc," he was a general practitioner who practiced medicine with his brother, "Big Doc." Together they owned the Sylva Pharmacy.
I. Hawley Powell (wholesale lumber distributor). Powell Wholesale Lumber is still in business in nearby Waynesville.
Ben N. Queen (fruit and vegetable retailer). Ben served as county commissioner from 1924 to 1926. He later went into the home construction business.
Abe M. Simons (department store retailer). Abe owned the Paris Department Store on Main Street in Sylva. His house was located near the present First United Methodist Church of Sylva.
Charles B. Thompson (lumber). Charles managed the American Forest Products Company and later managed the Carolina Hotel in Sylva.
Daniel Dean Tompkins (publisher). Dan owned and published the Jackson County Journal. He became editor of the 6-year-old paper in 1912 and would stay in that position for 31 years. He enlisted in the army during World War I; after he returned, he editorialized in favor of progressive social issues including women's suffrage. He was mayor of Sylva in 1920, 1925, 1927 and 1929 (and might have been Sylva's mayor in 1926, 1928 and 1930; records are incomplete). He was elected to the North Carolina House of Representatives in 1933, 1939, 1943 and 1947. Long-time Sylva Herald columnist J. D. McRorie later wrote that Tompkins' paper "was a strong advocate for good schools, good roads and anything that would be of benefit to the people of Jackson County."
The club's first new members joined on August 2, 1928: Daniel Bryson, C. W. Denning, Reginald Enloe and Scroop Enloe Jr.
The next year, at the 1929 District meeting in Charleston, South Carolina, the Sylva club was presented the Governor's Goblet for having the best record over the previous 12 months. The club won the award for an increase in membership, attendance at local meetings, attendance at district assemblies and at annual conferences, and for community service.
Distinguished community service is a hallmark of the Rotary Club of Sylva.
A notable example was the "Scout Hut." The club sponsored and built this 26 x 36 ft. one-story frame building on Sylva city property. The building, equipped with pine floors, lockers and a rest room, was used for Boy Scout meetings for over 35 years until it was removed by the city to make room for other facilities.
In other years, the club sponsored pig and steer clubs for the boys of Jackson County. In 1952 it began a winter grazing program to encourage the growing of winter grass for pasture.
For several years in the 1950's, the club sponsored the Consolidated Colored School's football team. The club advanced funds for outfitting the team, which were paid back from gate receipts.
Another example of the club's service to the community is the large and attractive children's playground at Poteet Park in downtown Sylva, which was completely rebuilt through the leadership of the club in 1999. Club president Jay Spiro and his wife Julie got the idea to do the project one day sitting in the hot sun at the old playground, watching their child play on hot, metal, dangerous, 40-year-old equipment. The club spent a full year planning and organizing the project; Jay Spiro and Cathy Arrington headed the team. Over 1,700 community volunteers participated in the week-long building of the new playground during the week of September 7-11, 1999. The club organized 3 shifts a day for 6 days, 14 hours a day; a hundred workers per shift sawed, dug, sanded, bolted, and landscaped the playground-- the largest community project in Jackson County history. The club even arranged for lunch and dinner for the workers, and a daycare for volunteers with small children. The project cost $95,000 (all of which was covered by grants and donations, including a Rotary grant), but the value of the construction (including donations in-kind and volunteer labor and tools) was estimated at $450,000. Included in the new multi-level equipment are climbing areas, a mountain maze, castle-pitched roofs, a dragon-tongue slide and a miniature replica of the old Jackson County courthouse.
An ongoing project of the club is its care of the extensive shrubs and flower beds that beautify the traffic islands at Jackson County's busiest intersection (the corner of Business U.S. 23 and N.C. 107 in Sylva). Originally the landscaping was the work of club member Dr. Ralph Morgan in 1984. Club president Orville Coward helped Dr. Morgan secure the necessary permission from the state Department of Transportation. Nowadays volunteer club members assemble once a month on a Saturday morning to don vests bearing the Rotary logo and wield rakes and hedge clippers. Club member Charlie McConnell once was handed a vest which, unknown to him, another club member had borrowed from the county jail. A passing motorist from out of town saw the word "INMATE" stenciled on the back of Charlie's vest and shouted, "It's about time we got some work out of you guys!"
One project didn't work out as planned. In 1988 David Miller, then president of the J. C. Penney Company, offered to donate a parcel of land (1.73 acres in Dillsboro) to the club for the purpose of a fundraising raffle promoted as "The Great Rotary Land Grab." Almost a hundred members of the general public purchased $10 chances to win the property (club members and their families were not eligible to participate). Proceeds were to be applied to Jackson County literacy programs. But about a month into the fundraiser (before the property was deeded) it was determined that a raffle of real estate would be illegal under North Carolina law. Apology letters were written to the folks who purchased chances, and all funds were returned.
In 2003 as part of its 75th anniversary celebration, the club installed a landscaped courtyard with river rocks and waterfalls on the campus of Sylva's Smoky Mountain High School (formerly Sylva-Webster High School). Club members raised $15,000 to fund the project, largely through an all-day concert at the county recreation complex on May 24, 2003, which featured local and regional performers. That amount was matched promptly by impressed Jackson County commissioners. Students, teachers and staff were involved in the project's design, as were local landscape and nursery businesses.
The Rotary Club of Sylva has long been a leader in supporting local young people through scholarships and grants. The club contributes each year to the New Century Scholars program in the Jackson County schools. The program-- developed by the Jackson County Board of Education, Southwestern Community College and Western Carolina University-- offers scholarships to qualified high school students who agree to stay in school, maintain good grades and perform service for the community. The club was the first sponsor of the program; its initial contribution was $5,000. Further, each month the club awards $100 savings bonds to a student at Smoky Mountain High School and to a student at Southwestern Community College. These awards were endowed by club member Jim Greenwald, who made a $10,000 contribution in loving memory of his daughter Tina and her daughter Tiffany. Moreover, the club encourages and sponsors international exchange students in the Sylva area. Club members have hosted several exchange students in their homes.
During its long history the club has met in many different locations. The first meetings were held at the Chamber of Commerce Hall in Sylva. Later meetings were held in the Charles L. Allison Educational Building of Sylva's Methodist church, where churchwomen catered the Tuesday evening meals as a way to raise money for church projects. Rotary meals paid for new carpet the church installed in 1950 and new furniture when the parsonage was remodeled in 1954. Other meeting locations were the First Baptist Church of Sylva, Liberty Baptist Church, the Jarrett House, the Court Hill Inn, the Top of the Stairs restaurant at Western Carolina University, the Comfort Inn, the Western Sizzlin' restaurant, the Catamount Inn, the Point After restaurant, the Down Under restaurant, and the Ryan's restaurant.
One evening in the spring of 1967, when meetings were held at the Jarrett House, club member James A. Gray Jr. parked his brand-new Chevelle station wagon beneath one of several large maple trees that once stood in front of the restaurant. Near the end of the meeting, club member Reg Moody Sr. came in and asked, "Who has a Chevy station wagon out front with a tree across the top?" One of the tall trees (about a yard wide) had flattened his new car. "There was no wind, no storm," Gray said. "The tree's roots had apparently rotted after the area was paved."
It was also during the years the club met in Dillsboro that then-secretary Raymond Sutton forgot that he had put a notebook of club records on top of his car after a meeting and drove away. The papers were never found!
One meeting location, the Western Sizzlin' restaurant in Sylva, was destroyed by fire. A brass Rotary bell inscribed with the names of the club's presidents was the only item salvaged from the club materials stored there. The bell is still in use; it signals the formal beginning and end of each meeting.
For many years, meetings took place at 6:30 on Tuesday evenings. On July 11, 1989 the club's members voted unanimously to change to a lunchtime schedule. By that time all nearby Rotary clubs had moved to a lunchtime format (except one, which met in the early morning). By October of 1989 a suitable alternate location was located and meetings began to be held at noon on Thursdays.
Members of the Rotary Club of Sylva have served as District Governors of Rotary District 7670 on three different occasions: Hiram T. Hunter (1941-42), S. Aaron Hyatt (1982-83) and Paul Haberland (1987-88). And a former Sylva club member, S. Aaron Hyatt, served Rotary International as General Secretary (1997-2000).
Past presidents of the club are:
Charles Z. Candler (1928-29)
Scroop W. Enloe (1929-30)
Daniel G. Bryson (1930-31)
W. Kermit Chapman (1931-32)
Hiram T. Hunter (1932-33)
J. Claude Allison (1933-34)
Thomas A. Cox (1934-35)
Daniel K. Moore (1935-36)
Jack L. Walters (1936-37)
E. Lyndon McKee (1937-38)
W. Ernest Bird (1938-39)
W. Reginald Enloe (1939-40)
Raymond U. Sutton (1940-41)
Clyde M. Blair (1941-42)
Phillip L. Elliot (1942-43)
T. N. Massie (1943-44)
Paul C. Ellis (1944-45)
Ralph C. Sutton (1945-46)
William E. Ensor (1946-47)
Delos D. Hooper (1947-48)
J. Coleman Cannon (1948-49)
William J. Fisher (1949-50)
Harry E. Ferguson (1950-51)
Clinton Dodson (1951-52)
Herbert Gibson (1952-53)
Harold S. McGuire (1953-54)
J. Ramsey Buchanan (1954-55)
J. Stedman Mitchell (1955-56)
A. Keith Hinds (1956-57)
Wayne Terrell (1957-58)
W. Newton Turner (1958-59)
Woodrow R. Hampton (1959-60)
Charles W. Stewart (1960-61)
Rosar H. Taylor (1961-62)
Ralph Siler Morgan (1962-63)
Joseph T. Evans (1963-64)
D. Creighton Sossomon (1964-65)
James B. Childress (1965-66)
Paul A. Reid (1966-67)
Robert C. Vodak (1967-68)
W. Paul Holt Jr. (1968-69)
James A. Gray Jr. (1969-70)
Donald C. Morgan (1970-71)
Roger R. Bisson (1971-72)
Reginald E. Moody Sr. (1972-73)
Wade W. Wilson (1973-74)
David O. Rice (1974-75)
James W. Simpson (1975-76)
William C. Stump (1976-77)
S. Aaron Hyatt (1977-78)
James T. Maxey (1978-79)
Conrad G. Burrell (1979-80)
Paul M. Haberland, Ph.D. (1980-81)
Albert F. Gilman (1981-82)
Nagui El-Bayadi (1982-83)
Orville Coward Sr. (1983-84)
Bill Serjak (1984-85)
James E. ("Archie") Crawford (1985-86)
Robert Holt (1986-87)
Francis M. Webster (1987-88)
James L. Moore (1988-89)
Hal Dennis (1990-91)
Robert J. Stewart (1991-92)
Ken Mostella (1992-93)
Ken Wood (1993-94)
Raye Parker (1994-95)
John Kevlin (1995-96)
Mark Reeser (1996-97)
Howard Allman (1997-98)
James ("Jay") Spiro (1998-99)
Gerena Parker (1999-2000)
James Kent ("Jay") Coward Jr. (2000-01)
Charles Candler McConnell Jr. (2001-02)
Shelly Lackey (2002-03)
Robert ("Bob") Carpenter (2003-04)
F. Patrick McGuire (2004-05)
Charles Wolfe (2005-06)
Mark Leonard (2006-07)
Larry Hinton (2007-08)
Scott Baker (2008-09)
Tom Schutte (2009-10)
Jennifer Dirkes (2010-11)
Ruddy Kaye (2011-12)
Lyn Lazar (2012-13)
Ken Nicholson (2013-14)
Ron Rhodes (2014-15)
Peggy Wike (2015-16)
Eddie Wells (2016-17)
Margaret Agee (2017-18)
Todd Vineyard (2018-19)
Mike Wade (2019-20)
Joe Rigdon (2020-21)
---

Charter member Scroop W. Enloe.
---

T. Dick Slagle and his wife drove their automobile from Sylva to the Rotary International convention in Mexico City in 1951. It was the first time a member of the Sylva club attended an RI convention held outside of the United States. A native of Macon county, N.C. and a veteran of World War II, Dick was a surgeon.
---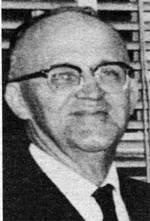 For over half of the Sylva club's first 50 years, one man served as its secretary: Raymond Ulysses Sutton. He held the office for 35 of his 41 years as a club member (1936-1970). He joined the club in 1934 and was president in 1940-41. In addition to his years of Rotary work, Raymond served as treasurer of the C. J. Harris Community Hospital for 20 years (and was a trustee for 30 years), was a member of the Board of Trustees of the Fontana Regional Library, and was active in the United Fund and county political affairs. He worked for the Mead Corporation until his retirement in 1959. He died in September, 1975.
---

Club president (1935-36) and North Carolina governor (1965-69) Daniel Killian Moore grew up in nearby Webster. He practiced law in Sylva until 1945, when he was elected Solicitor for the district (gathering over 80% of the votes cast in Jackson County). As governor, some of his concerns were highway safety, education, agricultural problems, recreation, conservation, and improved health care. Dan later served as a justice of the Supreme Court of North Carolina. He died on September 7, 1986.
---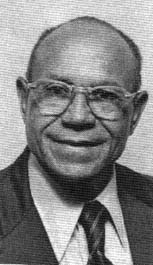 In July 1973, the Rev. Joseph H. Smith became the club's first African-American member. He began his ministry at Liberty Baptist Church as a young man in 1928 and remained the church's minister for 53 years. The church became the strongest black church in the county. Jackson County historian Clifford R. Lovin credits Joe with having been "the most important black person in the relationships between the white and black communities of the county."
---

S. Aaron Hyatt became a Rotarian when he joined the Sylva club in 1972. He served as president in 1977-78, during the club's 50th anniversary. At the district level, he served as District Governor (1982-83) as well as District Chairman of the Chan Gordon Scholarship Committee, the International Service Committee and the World Community Service Committee. He is a Paul Harris Fellow. He moved from Sylva to become the president of Macon College in Georgia. Aaron later became a Director of Rotary International from 1994 to 1996, and was appointed the General Secretary and Chief Administrative Officer of Rotary International and the Rotary Foundation from 1997 to 2000. (The General Secretary is the chief administrative officer of RI, and heads a staff of about 600 persons working at the international headquarters in the Chicago suburb of Evanston, Illinois.) Aaron was only the 9th person to hold that position since its creation in 1910. He and his wife Jane now reside in Missouri.
---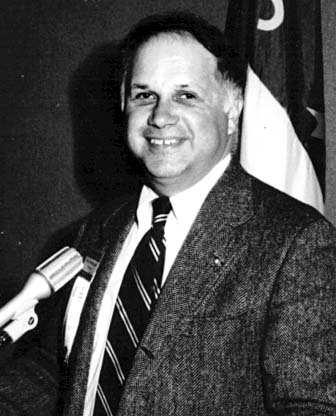 Paul M. Haberland served as club president (1980-81) and later served as District Governor in 1987-88. He joined the Rotary Club of Sylva shortly after he arrived in North Carolina in 1974. He served as president of the Study Exchange Team to South Korea, as District Chairman of the World Community Service Committee, the District Assembly Committee, the Group Study Exchange Committee and the Chan Gordon Scholarship Committee. A professor of German, Paul was strongly influenced in his choice of career by his experience as a Rotary Club exchange student in Munster, Germany at age 21. He is a Paul Harris Fellow. A native of Milwaukee, Paul now lives in Wisconsin.
---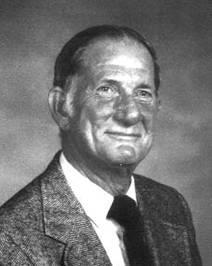 Club president (1985-86) and District Secretary (1987-88) James E. ("Archie") Crawford was a Jackson County native and World War II veteran (aboard bombers in the Pacific) before he joined the Rotary Club of Sylva in 1969. He had perfect attendance for 24 years and was a Paul Harris Fellow. He is survived by his wife, the former Ruth Pangle, who is a member of the club with a perfect attendance record just like Archie.
---

Ralph Siler Morgan Jr. was born in Brevard, N.C. in 1913. A graduate of the University of Chicago Medical School and veteran of World War II, he moved to Sylva in 1948 to practice medicine with club member T. Dick Slagle, a distant cousin. He joined the club that same year; in June 1992 he would receive an award for 40 years of perfect attendance. He was a Paul Harris Fellow. Ralph and his wife opened the Riverwood Pewter Shop in 1957; their small studio and gift shop spawned Dillsboro's now-thriving crafts community. As well as a respected cardiologist, he was a passionate believer in community beautification. Ralph was instrumental in creating landscaped traffic islands at Jackson County's busiest intersection. He donated much of his personal time in developing the beautiful shrubs and flowers currently growing there. A memorial sign bearing the Rotary logo and Ralph's name is posted among the greenery.

Ralph's daughter, Ruth, would go on to marry a Cullowhee High School (and WCU) basketball player named Charles McConnell, Jr., better known as our club's beloved "Charlie" McConnell, who died in 2013.
---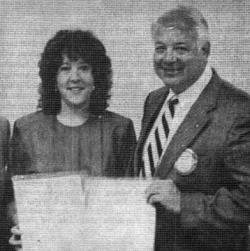 Attorney Laura Greene became the first female member of the club when she joined in October, 1990. She is shown with club president (1983-84) Orville Coward Sr., who introduced Laura to the club.
---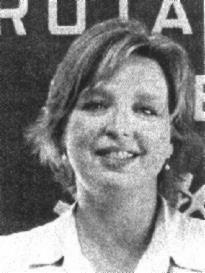 Certified Public Accountant Gerena Parker became the first female president of the club when she was elected to that position in 1999. Gerena has her own accounting firm in Sylva.
---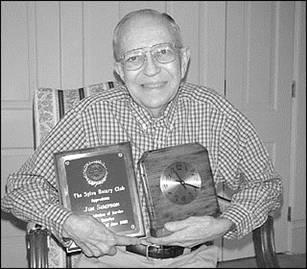 In July 2001, the club presented a special award to James W. ("Jim") Simpson, honoring him for 32 years of perfect attendance. "Before he died, Dr. Ralph Morgan had the next best attendance record," said club president Charlie McConnell, who gave Simpson a clock he crafted "from the same batch of wormy chestnut that made Dr. Morgan's house." A world traveler, Jim did not always attend meetings at the Sylva club. "I've made up meetings in England, Scotland and even Paraguay," he said at the ceremony. "That's a good way to understand the international fellowship of Rotary." Jim had served as District Secretary. He owned the Chevrolet dealership in Sylva for several years and retired as owner of All- American Awards and the Christian Shop. He also had been mayor of Webster, N.C. Jim died in 2003.
---
At the club's 75th anniversary celebration in 2003, many past presidents assembled for this photo. From left: Fran Webster, Gerena Parker, Reg Moody Sr., Jay Coward, Charlie McConnell, Bill Stump, Harold McGuire, Jay Spiro, Jim Moore, Wade Wilson, John Kevlin, Jimmy Childress, Stedman Mitchell, Orville Coward and Raye Parker.